If you have a project, we have the team and the skills to bring it to life.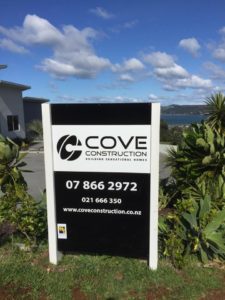 Our professional team of builders work hard to ensure that all projects undertaken are completed on time, we always aim for a quick efficient turnaround.
We always produce a high quality standard of workmanship. We are members of the Master Builders Association
We're not a large contracting company so we are able to treat each customer individually and offer a caring, personal service. You are more than a job number to us! We undertake building work locally in Whitianga and the Coromandel region.
Nick's 'get it right the first time' approach has established a highly respected reputation and believe in pride and perseverance for each project. The Cove Construction team believes strongly in that any builder can build a building, but good builders stand by their work.
From project conception to handover, Cove Construction is able to provide planning, development and construction services that ensure the final product is delivered in the most cost effective manner while not compromising on high standards and a quality finish.
By actively engaging with clients, developers and consultants the experienced Cove Construction team is able to consistently achieve mutually satisfying results through maintaining long standing and open relations.
Testimonials
We are writing in appreciation of a job well done and to provide a positive endorsement for Nick and the team at Cove Construction. Nick offers a very straight up approach to business with honesty and fairness. Their proposal to re clad our home was competitive with minimal variations and we have been delighted with the quality of the workmanship. The finished product is very good, the result of a building team who pride in their workmanship and team work. We would highly recommend Cove Construction based on our experience with them and would be happy to answer any questions from people considering contracting Cove Construction.
Flaxmill Bay
Steve & Cherry
We decided that it was time to build on our Pines section in Matarangi and we wanted to build a luxury beach home that sat well in the Pines environment, we are very particular about detail and wanted to achieve the wow factor. We approached Nick Gill in January 2017 and he was extremely receptive to what we were trying to achieve and very easy to deal with. We have been impressed with Nicks ability to come up with creative ideas to enhance our build. Nick was always available to discuss, provide solutions and we made a number of changes along the way which Nick included with ease.

All members of the building team are really easy to deal with and did a fantastic job on the detailing our home required, they kept us informed and asked questions along the way. The construction of some aspects involved some technically challenging work which was executed with perfection. We were impressed with the standard of workmanship his sub trades provided and the excellent relationship Nick has with these teams meant everything was completed on time.

We moved in as planned in November 2017 and really love our home. It has been a pleasure to deal with Nick and his team and we would certainly recommend and use them again.

February 2018
Pines section in Matarangi
Anita & Ross Thorpe
Hi Nick and Hollie,

Ann and myself thought that it was about time we thanked you for building our house, which we love.

We have now been living in our new home for five months and so far have found no faults to be fixed and rectified, this shows that the build was carried out with care and to a very high standard.

It is almost a year since we first met you on site and talked about the build, which was completed on time this we find amazing especially with all the little tweaks we made.

Ann and myself would have no hesitation in recommending you or providing any references and consider that we were very lucky in having someone who was so understanding and caring which made what is usually a stressful process so easy.

Your patience amazes me, the daily emails from Ann and also phone calls from us with the tweaks to the plans would have driven me mad, however you made our want's and dreams happen, your understanding and guidance will always be appreciated by us.

We should also put on record how tidy you kept the site, this has made our landscaping so much easier compared to other newly built properties we have lived in.

We would also appreciate it if you would pass on our sincere thanks to all the guys that worked on the build, we have met some of them from our site visits, what a great bunch of lads you employ, very friendly and hard working, this must come from you, leadership is a skill, this you have in abundance and rubs off on you workforce and shows in the quality of the finish.

Once again Nick, Hollie and all those from Cove who worked on our home thank you for the superb job you have done.
See all our Client Stories